The DefiSign AED Universal Cabinet is a reliable and robust AED cabinet with an audible alarm. The cabinet has the international ILCOR logo. Through this logoand the striking green colour, the DefiSign cabinet is universally recognizable for everyone. The frame of the cabinet is made from solid metal so that it can withstand rough handling.
The alarm can be easily (de)activated via an internal switch. When the alarm is activated due to the cabinet being opened, it will produce a loud sound of 100dB.
The AED can be easily seen through the glass front of the DefiSign cabinet, to easily see whether the AED is ready for use. In summary, this is a clear and sturdy indoor wall cabinet, with the addition of an alarm for extra security.
Location
To make your AED as accessible as possible, ensure that the cabinet is placed in a central point within your company or organization. The cabinet may be easily attached to the wall by means of two bolts.
The alarm is battery operated, so the wardrobedoes not need to be connected to an AC power outlet.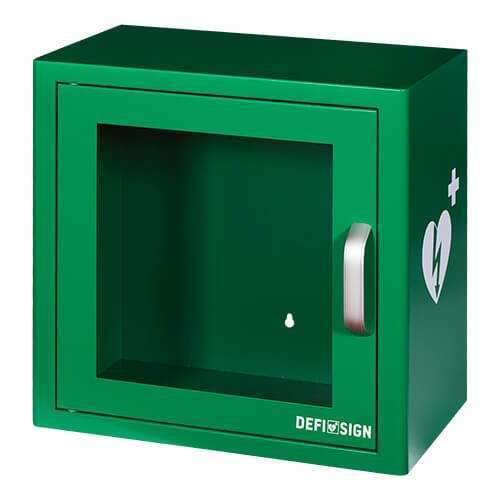 Measurements
B= 360 mm, H= 360 mm, D= 200 mm
Door: 270 x 320 mm
What is included?
DefiSign AED Universal Wall Cabinet
Handle
NB: This cabinet is suitable for every AED, with the exception of the CardiAid.