The Defi Sign 100 AED Wall Cabinet is both durable and lightweight. This cabinet can be attached to any interior. The outer shell of the cabinet is made from ABS with a flexible polycarbonate cover. These materials are well known for their use in the car industry. Polycarbonate is used for the production of headlights and ABS in the manufacture of shock absorbers.
The wall cabinet comes with a loud audible alarm and light detection system.
Overall, a solid cabinet, which can be placed anywhere indoors!
Placement
To ensure that your AED is as accessible as possible, it is best placed in a prominent position within your company or organization. The cabinet requires just three screws to attach it to any wall.
When the included D-type batteries are installed, the alarm and the warning lights will be active. This can be checked by the LED lamp which should be flashing red.
When the AED is placed in the cabinet, it can be sealed. Through this seal, you can easily check whether the cabinet has been opened.
Functions
The DefiSign 100 AED Cabinet features a loud audible alarm of up to 105dB. This alarm will sound if the cabinet is forced open.
In addition, the wall cupboard is equipped with a light detection system. If there is sufficient daylight, a white LED lamp will flash. This enables the cabinet to be easily located in dark conditions.
Please note that the cabinet does not have a heating or ventilation mechanism and therefore is not suitable for outdoor use.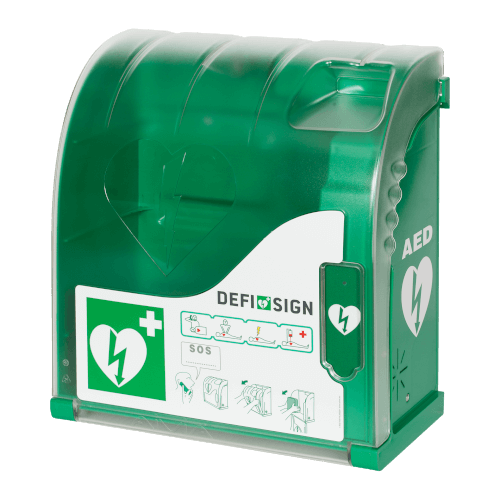 Dimensions
H = 423 mm, L = 388 mm, D = 201 mm, Weight = 3,5 kg
Guarantee
De DefiSign 100 AED Wall Cabinet comes with a 2 year manufacturer's guarantee.
What is included?
DefiSign 100 AED Wall Cabinet
D-type battery
Handle