Within the DefiSign range there is also an outside lockable cabinet, the DefiSign AED 210 Outdoor Cabinet. This rugged outdoor enclosure combines durability with a modest weight. Very convenient, as this cabinet can be mounted to any wall. The solid body of the box is made from ABS and the flexible door is made from polycarbonate. These materials are well known in the automotive industry, polycarbonate is used for the production of headlights and ABS in the manufacture of shock absorbers.
This outer housing is further provided with a temperature controller, loud alarm, and day-night lighting. In short, the DefiSign 210 outdoor cabinet is an advanced lockable AED cabinet that can take a beating!
Placement
Although the DefiSign 210 AED Outdoor cabinet has a good ventilation mechanism, it is still important to install it in a shaded area. The ventilation system suppresses high temperatures, but does not function as an air-conditioner. Too much sunlight from direct exposure will significantly shorten the shelf life of the battery(ies). Also, it is likely that the gel on the electrodes will dry out sooner, meaning that the cardiac rhythm, during a resuscitation, will me measured less accurately.
For the ventilation device to operate, the cabinet need to be connected to mains electricity. This should always be carried out by a qualified electrician.
Functions
The door release on cabinet is motorized and can only be opened with the correct PIN code. The DefiSign outer casing has a loud audible alarm of up to 105dB. This will sound when the opening of the cabinet is forced.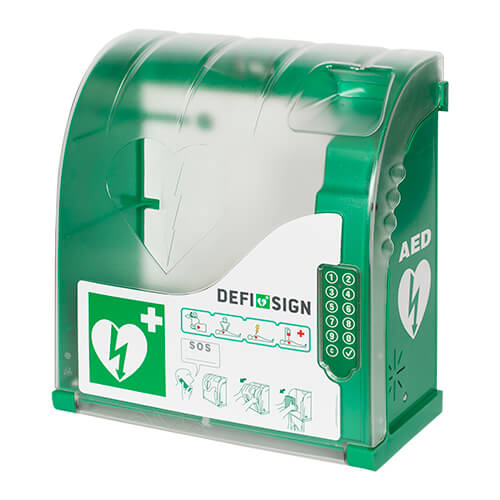 Dimensions
H = 423 mm, L = 388 mm, D = 201 mm, Weight = 3,5 kg
Guarantee
De DefiSign 210 AED outdoor cabinet comes with a 2 year manufacturers warranty.
What is included?
DefiSign 210 Outdoor Cabinet
Transformer
Instruction Manual
NB: Wiring and mounting hardware for the transformer are not included.